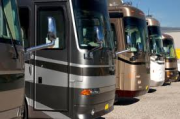 RV Insurance in Montana: Your Comprehensive Guide by Cogswell Insurance Agency
For the RV enthusiasts of Montana, securing comprehensive RV insurance is a must for both peace of mind and financial protection. Cogswell Insurance Agency specializes in providing detailed RV insurance policies that cater to the unique needs of each RV owner. This guide offers insights into RV insurance in Montana. For a personalized consultation regarding your RV insurance needs, feel free to contact us at 406-761-5000.
If you require personalized advice, call us at 406-761-5000, or click here -

Understanding RV Insurance in Montana
RV insurance is an essential safeguard for RV owners in Montana. It offers financial protection against unexpected events such as accidents, theft, and liability claims. With Cogswell Insurance Agency's RV insurance, you can hit the road with confidence, knowing you're well protected.
Common Claims Covered by RV Insurance in Montana
While RV insurance can be tailored to each owner's specific needs, common claims typically covered by RV insurance include:
Medical Payments
Helps cover medical costs related to an RV accident, regardless of who is at fault.
Collision Coverage
Protection against damage to your RV from a collision with another vehicle or object.
Liability Coverage
Provides coverage if you're responsible for an accident that causes injury or property damage.
Why Choose Cogswell Insurance Agency for Your RV Insurance in Montana?
Cogswell Insurance Agency is a trusted provider of RV insurance in Montana. Our coverage is comprehensive, designed to protect you from unexpected events, and tailored to fit your specific needs. Contact us at 406-761-5000 to discuss the best insurance options for your RV.
Request an RV Insurance Quote from Cogswell Insurance Agency Today
RV insurance is a necessity for any RV owner. By choosing Cogswell Insurance Agency, you're partnering with a trusted provider that understands the unique needs of RV owners in Montana. Don't wait to protect yourself and your RV. Contact us at 406-761-5000 for your personalized RV insurance quote.
You can also fill out our online quote request form for a tailored quote. At Cogswell Insurance Agency, we're committed to safeguarding the adventures of RV owners in Montana!